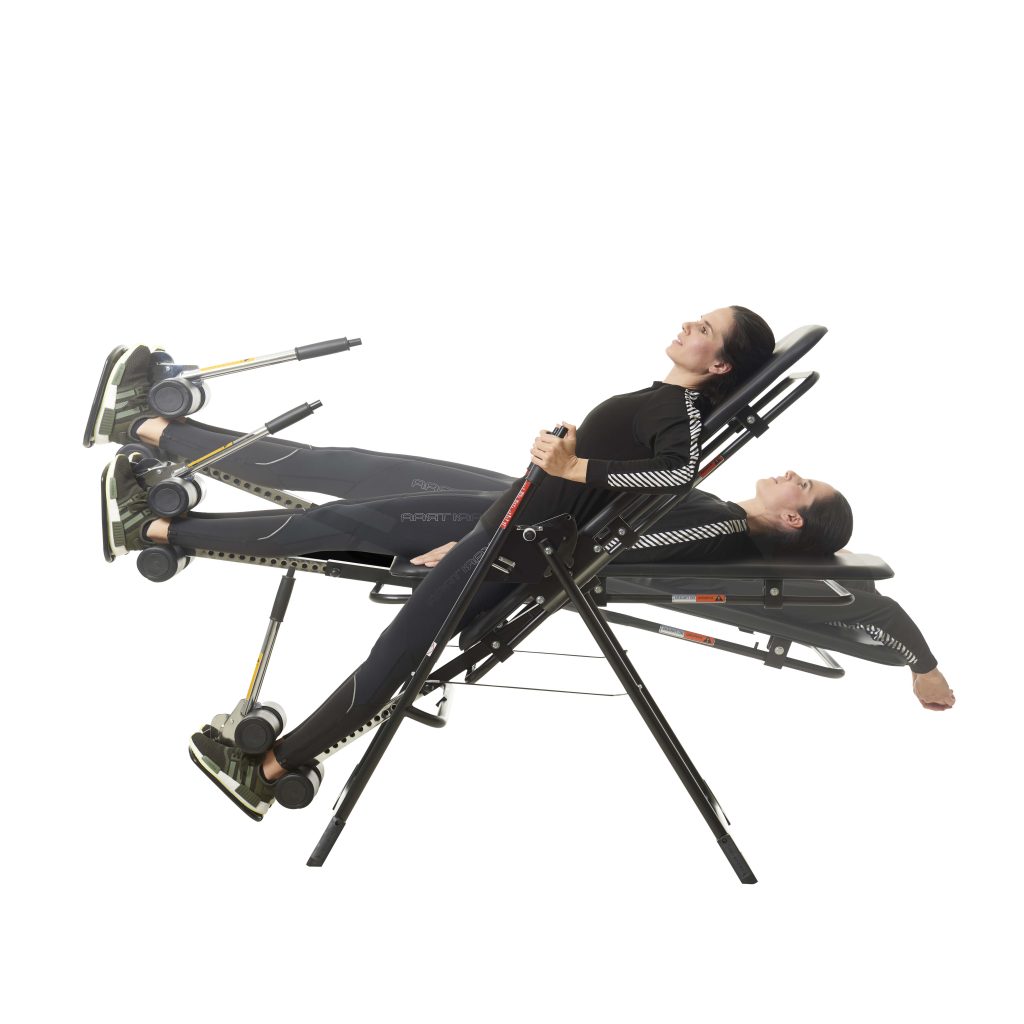 Před pouzitím si dukladně prostudujte instrukce k Mastercare® Back- A- Traction. Naslouchejte signalum svého tela. Nedělejte zádné pohyby, zpusobující nepříjemné pocity či bolest. Doporučujeme začít s cvičením pozvolna a postupně zvyšovat náročnost cvičebního programu. Doporučená cvičebni doba je od 2 – 15 minut.

Nez začnete pouzívat Back- A- Traction® mějte na paměti tyto jednoduché rady.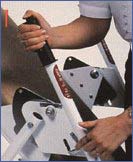 Uvolněte zabezpečovací zarázku na jedné straně.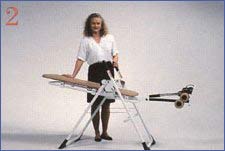 Zmáčkněte tlačítko na druhé straně a umístěte lavici do vodorovné polohy.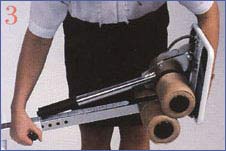 Zdůvodu rovnováhy nastavte vaši výšku a zajistěte zarázkou.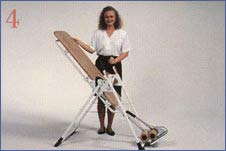 Tlačítko na drzáku zmáčkněte a tímto umístíte lavici do svislé polohy. Zajistěte zabezpečovací zarázkou.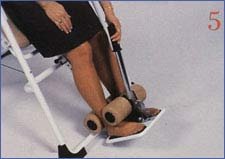 Vyzujte si boty.Stoupněte si na plochu pro nohy. Upněte pevně nozní válečky směrem ke kotníkům.Nohy by měly být upnuty pevně,ale ne příliš tvrdě.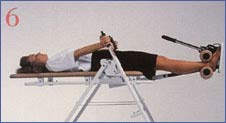 Zmáčkněte zároveň tlačítka na obou stranách.Nakloňte se do zadu a pusťte tlačítka tak,abyste stanuli ve vodorovné poloze.Chvíli odpočívejte,několikrát se zhluboka nadýchnete a vydýchnete.Drzte se drzáku a posuňte se na lavici tak,abyste důkladně natáhli tělo.V této pozici lezte několik minut. Lõdvestuge ning hingake sügavalt.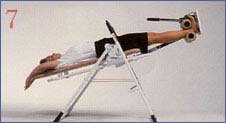 Zmáčkněte tlačítka a nakloňte se dozadu. Lavice se automaticky zarazí v 15″sklonu. Ruce natáhněte za hlavu tak,jako byste chtěli trhat jablka. Přitáhněte palce u nohou k sobě. Na chvíli se zastavte , vraťte se do původní polohy.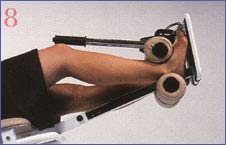 Vykonejte pohyb,jako byste kráčeli. Ohněte koleno tak, az ucítíte napětí v kotníku  kolenu a kyčli. Ohněte koleno kam az to lze, druhou nohu drzte vodorovně. Zůstaňte chvíli v této pozici a postupně se vracejte do původní polohy. Toto opakujte s druhým kolenem.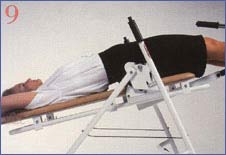 Zvedněte pánev z lavice tak, ze cítíte napětí  v břišních svalech . Vraťte se do původní   polohy a přitlačte bederní část páteře k lavici. Opakujte.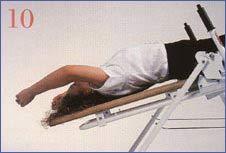 Přitlačte krční páteř k lavici . Zvedněte  ruce nad hlavu tak, az ucítíte odlehčení v celé páteři.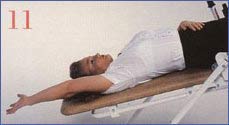 Polozte jednu ruku na břicho,druhou natáhněte nad hlavu a otáčejte do čtyř různých poloh s roztazenými prsty. Ukončete pohybem ruky jako při plavání. Opakujte tento cvik druhou rukou. Opakujte.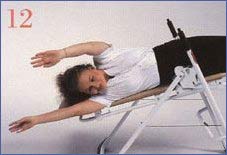 Otočte se na stranu. Nejprve na pravou potom na levou. Odpočívejte si mezi kazdým otočením. Opakujte.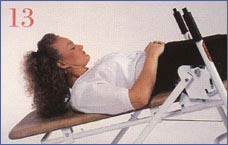 Zvedněte hlavu a ramena tak,aby bederní páteř byla přitlačena k lavici.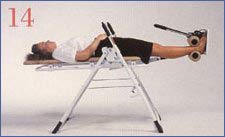 Po skončení cvičení se vraťte do vodorovné polohy. Pokud zajišťovací tlačítka fungují ztuha, pohybujte lehce lavicí. Zůstaňte lezet 1 – 2 minuty. Vraťte se do výchozí polohy.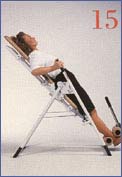 Pokud chcete cvičit v intervalech, zvolte  program  "ZMĚNA". To znamená, ze si zvolíte několik cviků, které provádíte v 15″ sklonu během dvou minut. Vraťte se do  vodorovné polohy a odpočívejte cca 30 vteřin. Opakujte tento program 3 -6 krát .
Cítíte-li se unaveni v zádech,zvolte program "ZAVĚŠENÍ" a natáhněte se v 15″sklonu cca 5 – 10 min. bez jakéhokoliv cviku.
Interested in buying your Mastercare table?