Mastercare AB is one of the world's leading companies in the speciality of traction tables, designed for professional use and self-treatment. 
With over 30 years of experience, working with the Mastercare® Back-A-Traction® in co-operation with medical professionals, we have built a reputation of outstanding treatment results, product performance and breakthroughs in the field of occupational health care, clinical use and self-treatment in the home.
The Mastercare® product, with its unique safety concept, is the most scientifically approved and professionally backed up inversion traction system on the market.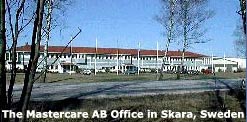 To have the most outstanding worldwide health solution for people of all ages focusing on back, neck, shoulder, hip, knee and circulation problems in the field of prevention, rehabilitation, sports performance and general wellness.
This Mastercare® vision will be achieved by establishing distributors all around the world who are dedicated to achieving customer satisfaction.
The Mastercare Business Concept
The company's relaxation and wellness concept is based on the belief that people need to take more control of their own health. The customer's health rewards are the foundation of our ultimate ambitions. The Business Concept is one cornerstone for driving our success world wide. 
Our trademark, the Mastercare® logo, is the symbol of quality, safety and customer satisfaction – the market leader in the speciality of inversion traction tables, designed and patented for use by professionals as well as self-treatment in the home.