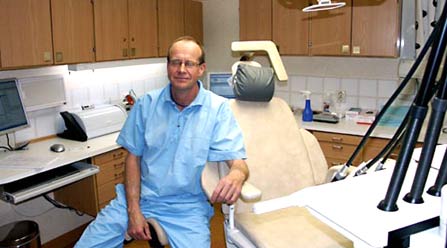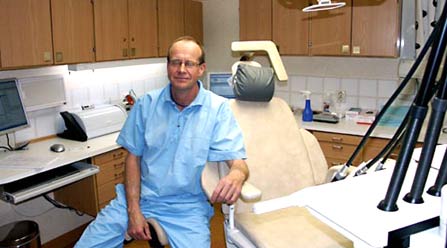 "As a dentist I daily put pressure on my back and shoulders and therefore have used Mastercare® Back-A-Traction® regularily since 1980.
As preventive care, the staff is also encouraged to use it and they like it.
We can warmly recommend all dentists and dentist nurses to use Mastercare® Back-A-Traction®! It stretches and unloads, it feels good and you get a time of relaxation…who doesn't need that in a stressful work?!"
Reduce sick-days at work with Mastercare Back-A-Traction 
The Mastercare Back-A-Traction offers Natural Spinal Decompression and is
beneficial to be used at workplaces for employees' direct access to use daily,
regularly for prevention and rehabilitation matters.
At Volvo-Aero Corporation in Trollhättan, Sweden, Mastercare Back-A-Traction
has reduced the absence due to illness, caused by back problems, with 33%.
"The Swedish Mastercare has been found to reduce lower back pain when used regularly at the work-place. Many patients describe the effect as sensational, and in contrast to pain-killers, has virtually no side-effects".
-Lennart Dimberg, MD
Occupational Physician and General Practitioner
Volvo-Aero Corporation, Sweden.
General Information
Mastercare Back-A-Traction offers a concept that reduces the costs for staff put on the sick-list and prevents and relieves your employee's pain. Mastercare Back-A-Traction is the only scientifically tested and evaluated inversion product on the market. It has been successfully used all over the world since 1987 by medical doctors, physical therapists, chiropractors, naprapaths etc. within rehabilitation, treatment and wellness in regards to back, neck, shoulder, hip and knee problems. Also many thousands of private people and companies use Mastercare for self-treatments.
The Mastercare Concept – which has been developed together with experienced medical doctors and physical therapists in Sweden – is based on decompression of discs and joints in combination with simple therapeutic exercises in 15º inversion. Its moving backrest transforms the bodyweight into gravity traction and the exercises are done in an unloaded and pain free position, which renders in general a decompression throughout the entire body.
Mastercare Back-A-Traction is an affordable and effective self-treatment device that renders increased well-being to your employees. It takes little space and can be placed in direct connection to the workplace.
After introduction your employees can treat themselves and are able to continue an active working life with less pain, thus reducing/preventing sick-days.
Effects from using Mastercare Back-A-Traction:
Pain relief
Increased fluid in joints and discs and increased oxygenation
Nutriment in – dross out
Stretching and toning of muscles
Increased blood circulation and mobility
A nice relaxation throughout the entire body!
Improved performance
Reduced sick-days = Save Money
Five minutes a day –
enough to relieve and prevent the following problems:
Chronic back pain (lumbar, thorax and cervical)
Pain in shoulders and neck
Muscle pain
Herniated disc
Degenerative disc disease
Sciatica
Certain whiplash-injuries
Bechterews disease (also called Morbus Bechterew, Marie Strumpell disease, rheumatoid spondylitis, and ankylosing spondylitis
Scoliosis
Tiredness in the back
Hip-joint and knee-joint arthritis (worn out hips and knees)
Osteoporosis
Spinal stenosis
Spondylolisthesis
Many postural problems
The product is CE-marked in Europe which means that it fulfils the demands for
Medical Device, Class 1.
By making these testimonies, references and articles available, does not automatically mean that Mastercare AB recommends or endorses any of these facilities and their treatment methods... It is their comments and endorsements of Mastercare Products that we want to highlight!
Interested in buying your Mastercare model?